Top Ten Tuesday is a feature hosted by the fabulous Jana at The Artsy Reader Girl. You can join in with

future topics here

!
With Halloween nearly upon us, it's time to break out some fitting reads. Below are ten of my suggestions, ranging from the deliciously spooky, to the atmospheric and the funny.
Darkmere by Helen Maslin
A castle. A curse. A dangerous summer.
Leo has invited Kate and a few friends to spend the summer at his inheritance, Darkmere Castle: as wild and remote as it is beautiful. Kate thinks it will be the perfect place for her and Leo to get together - but instead, she's drawn into the dark story of a young nineteenth-century bride who haunts the tunnels and towers of the house. And whose curse now hangs over them all.
Deliciously creepy, this book will sneak up on you, until you're jumping at the slightest noise and thoroughly frightened. Be warned, I did have to put my copy in the freezer at a couple of points when it all became too much.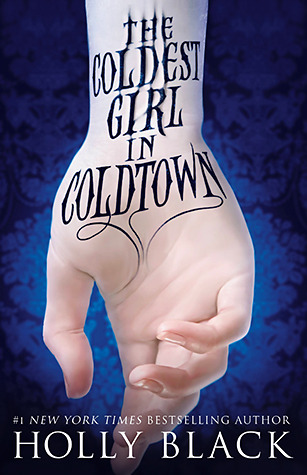 The Coldest Girl in Coldtown by Holly Black
Tana lives in a world where walled cities called Coldtowns exist. In them, quarantined monsters and humans mingle in a decadently bloody mix of predator and prey. The only problem is, once you pass through Coldtown's gates, you can never leave.
One morning, after a perfectly ordinary party, Tana wakes up surrounded by corpses. The only other survivors of this massacre are her exasperatingly endearing ex-boyfriend, infected and on the edge, and a mysterious boy burdened with a terrible secret. Shaken and determined, Tana enters a race against the clock to save the three of them the only way she knows how: by going straight to the wicked, opulent heart of Coldtown itself.
One of the creepiest of Holly Black's novels (and that's saying something because this list could be entirely made up of Holly Black novels) this is a gorgeously dark look at vampires and reality tv. Not a combination I ever thought could work, but Black makes a dark and terrifyingly good novel from the concept.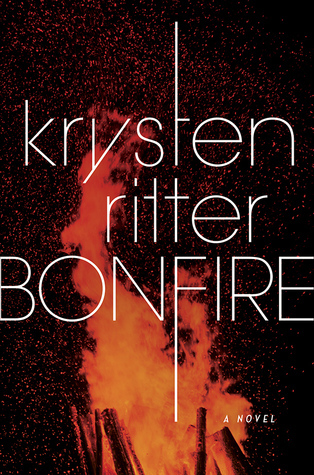 Bonfire by Krysten Ritter
Should you ever go back?
It has been ten years since Abby Williams left home and scrubbed away all visible evidence of her small town roots. Now working as an environmental lawyer in Chicago, she has a thriving career, a modern apartment, and her pick of meaningless one-night stands.
But when a new case takes her back home to Barrens, Indiana, the life Abby painstakingly created begins to crack. Tasked with investigating Optimal Plastics, the town's most high-profile company and economic heart, Abby begins to find strange connections to Barrens' biggest scandal from more than a decade ago involving the popular Kaycee Mitchell and her closest friends—just before Kaycee disappeared for good.
Abby knows the key to solving any case lies in the weak spots, the unanswered questions. But as Abby tries to find out what really happened to Kaycee, she unearths an even more disturbing secret—a ritual called "The Game," which will threaten the reputations, and lives, of the community and risk exposing a darkness that may consume her.
With tantalizing twists, slow-burning suspense, and a remote, rural town of just five claustrophobic miles, Bonfire is a dark exploration of the question: can you ever outrun your past?
The kind of thriller that sucks you into its small town claustrophobia where everyone (including the protagonist) could be a suspect. I really enjoyed this debut novel, and it's perfect to thrill you at Halloween.
Frankenstein by Mary Shelley
At once a Gothic thriller, a passionate romance, and a cautionary tale about the dangers of science,
Frankenstein
tells the story of committed science student Victor Frankenstein. Obsessed with discovering the cause of generation and life and bestowing animation upon lifeless matter, Frankenstein assembles a human being from stolen body parts but; upon bringing it to life, he recoils in horror at the creature's hideousness. Tormented by isolation and loneliness, the once-innocent creature turns to evil and unleashes a campaign of murderous revenge against his creator, Frankenstein.
A classic, and an excellent creepy read. You know all the lore, but have you ever read the original text? It's very much worth it, go forth and read!
Coraline by Neil Gaiman
There is something strange about Coraline's new home. It's not the mist, or the cat that always seems to be watching her, nor the signs of danger that Miss Spink and Miss Forcible, her new neighbours, read in the tea leaves. It's the other house - the one behind the old door in the drawing room. Another mother and father with black-button eyes and papery skin are waiting for Coraline to join them there. And they want her to stay with them. For ever. She knows that if she ventures through that door, she may never come back.
The most terrifying children's book, and the scariest of Neil Gaiman's books, this one gave me nightmares for weeks, and still haunts me...
The Dead Travel Fast by Deanna Raybourn
A husband, a family, a comfortable life: Theodora Lestrange lives in terror of it all. With a modest inheritance and the three gowns that comprise her entire wardrobe, Theodora leaves Edinburgh--and a disappointed suitor--far behind. She is bound for Rumania, where tales of vampires are still whispered, to visit an old friend and write the book that will bring her true independence.
She arrives at a magnificent, decaying castle in the Carpathians, replete with eccentric inhabitants: the ailing dowager; the troubled steward; her own fearful friend, Cosmina. But all are outstripped in dark glamour by the castle's master, Count Andrei Dragulescu.
Bewildering and bewitching in equal measure, the brooding nobleman ignites Theodora's imagination and awakens passions in her that she can neither deny nor conceal. His allure is superlative, his dominion over the superstitious town, absolute--Theodora may simply be one more person under his sway.
Before her sojourn is ended--or her novel completed--Theodora will have encountered things as strange and terrible as they are seductive. For obsession can prove fatal...and she is in danger of falling prey to more than desire.
This is by far Deanna's scariest read, with creepy Dracula undertones. If you enjoy historical mysteries that will both thrill and chill you then it's a perfect read for this time of year.
Harry Potter and the Chamber of Secrets by J K Rowling
"'There is a plot, Harry Potter. A plot to make most terrible things happen at Hogwarts School of Witchcraft and Wizardry this year.'"
Harry Potter's summer has included the worst birthday ever, doomy warnings from a house-elf called Dobby, and rescue from the Dursleys by his friend Ron Weasley in a magical flying car! Back at Hogwarts School of Witchcraft and Wizardry for his second year, Harry hears strange whispers echo through empty corridors - and then the attacks start. Students are found as though turned to stone ... Dobby's sinister predictions seem to be coming true.
Not your traditional spooky read, but definitely the creepiest of the Potter books, this one still gives me shivers. The voice in the walls that only Harry can hear, Death Day parties, ghosts, petrified students? Definitely a Halloween read.
The Night Circus by Erin Morgenstern
The circus arrives without warning. No announcements precede it. It is simply there, when yesterday it was not. Within the black-and-white striped canvas tents is an utterly unique experience full of breathtaking amazements. It is called Le Cirque des Rêves, and it is only open at night.
But behind the scenes, a fierce competition is underway—a duel between two young magicians, Celia and Marco, who have been trained since childhood expressly for this purpose by their mercurial instructors. Unbeknownst to them, this is a game in which only one can be left standing, and the circus is but the stage for a remarkable battle of imagination and will. Despite themselves, however, Celia and Marco tumble headfirst into love—a deep, magical love that makes the lights flicker and the room grow warm whenever they so much as brush hands.
True love or not, the game must play out, and the fates of everyone involved, from the cast of extraordinary circus performers to the patrons, hang in the balance, suspended as precariously as the daring acrobats overhead.
Sure this isn't really traditional spooky scariness, but The Night Circus has always been associated with Halloween for me. The circus opens for the first time on Halloween, and that beautiful, fantastical element permeates the entire novel.
Team Human by Sarah Rees Brennan & Justine Larbalestier
Just because Mel lives in New Whitby, a city founded by vampires, doesn't mean she knows any of the blood-drinking undead personally. They stay in their part of town; she says in hers. Until the day a vampire shows up at her high school. Worse yet, her best friend, Cathy, seems to be falling in love with him. It's up to Mel to save Cathy from a mistake she might regret for all eternity!
On top of trying to help Cathy (whether she wants it or not), Mel is investigating a mysterious disappearance for another friend and discovering the attractions of a certain vampire wannabe. Combine all this with a cranky vampire cop, a number of unlikely romantic entanglements, and the occasional zombie, and soon Mel is hip-deep in an adventure that is equal parts hilarious and touching.
Not really scary, definitely funny. If like me you would like something a little less terrifying this Halloween then this is definitely the one for you. It's whip smart, funny, and takes a look at the traditional vampire in high school tropes from the human watching it happen and thinking it's insane perspective. I adore this book.
The Scorpio Races by Maggie Stiefvater
It happens at the start of every November: the Scorpio Races. Riders attempt to keep hold of their water horses long enough to make it to the finish line.
Some riders live.
Others die.
At age nineteen, Sean Kendrick is the returning champion. He is a young man of few words, and if he has any fears, he keeps them buried deep, where no one else can see them.
Puck Connolly is different. She never meant to ride in the Scorpio Races. But fate hasn't given her much of a choice. So she enters the competition — the first girl ever to do so. She is in no way prepared for what is going to happen.
Again, not a scary book, but this is the time of year for a (re)read of The Scorpio Races. October is perfect for going to Thisby and experiencing this curious little island, its inhabitants, and the blood thirsty races that happen every November first.
So there you have some of my recommendations for books to pick up this Halloween, regardless of how scary you like your stories. What are some books that you'd recommend?